In recent newsletters we have highlighted a series of commitments that set the standard for how we work on your behalf: The Corvias Commitment.
One of these commitments is that We Give Back. Our role is to ensure a supportive, vibrant community for the residents who choose us. That means contributing to the community – from reinvesting back into community services and infrastructure to Corvias Foundation scholarships and grants that provide financial assistance to children and spouses of active-duty service members.
This commitment, along with the other commitments, is how we grade ourselves – an integral part of who we are as an organization. Your satisfaction is important to us. We know you have choices and we work hard to earn your trust, each and every day.
Have you been to the Corvias Self Help Store yet? The Self Help Store maintains a supply of commonly requested items needed to make small repairs or improvements on your home. Items such as touch-up paint, batteries, air filters, light bulbs, ice melt and more are stocked and available for residents to pick up. Additionally small tools such as shovels, rakes and weed eaters are available to check out. Click here to view the full list of items available at the Self Help Store. The Self Help Store is located at 380 Carter Ave and is open Monday – Friday, 8:30 am – 4:30 pm (closed on holidays).
2019 FALL RESIDENT SATISFACTION SURVEY
Beginning Tuesday, November 12th, through the 2019 Fall resident satisfaction survey administered by CEL & Associates, Inc. (a third-party company), you will have the opportunity to let us know how we can be better. We ask that you take a few moments of your time to complete this short, anonymous online survey.
Your experience living in our communities is all that matters and your voice counts.
A link to the online survey will be sent from ARMYHousingSurvey@celassociates.com to the primary email address listed in your resident file. The subject line of the email will read: Fall 2019 Official Army HQDA RCI Sponsored Resident Housing Survey. Please make sure to add this email address to your "allowed sender list" to avoid the message going to your spam/junk folder.
Also, please note this survey is different from the work order and move-in survey you may have received throughout the year.
Thank you in advance for your participation!
With the holiday season just around the corner, many families leave the area to visit family or friends. If you'll be gone for more than 7 days, sign up for Corvias' free House Watch service. A Corvias Maintenance Technician will make weekly checks on your home to ensure there are no maintenance issues and the home is secure. The Corvias House Watch service can help minimize or prevent costly damages that can occur if something goes wrong and unnoticed while you're away. Contact your community office to sign up today!
Grass and many plants go dormant for the winter season but that doesn't mean our lawn care provider, Munie, takes a break. Although, you won't see them out mowing again until this spring, Munie will be out in the communities conducting fall and winter lawn services throughout the month of November. This includes mulching landscaping beds, fertilizer and weed control applications, and fall cleanup of leaves and debris. For more information and details on the schedule, please contact your community office.
Each November the Military community observes Military Family Month. Every day, our team recognizes the daily sacrifices made by Military families, and we are honored to provide housing services to those families.
We are far from alone in appreciating everything that Military families sacrifice. Many local services are provided to show their appreciation this month. Take a look at what is happening: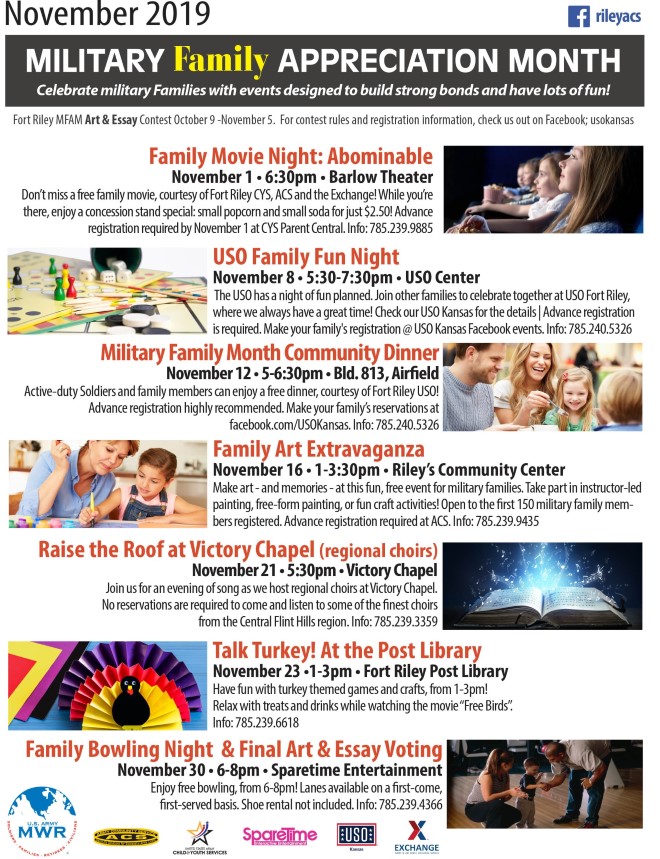 We want our community centers to be the hub and heart of our communities. By actively inviting residents to come visit and engage with us, we hope to grow stronger, more meaningful connections in our communities. Stop by your community office every week for our Corvias Connections Events! We hope to see you there! For more information, call or visit your community office.
November 1 - Fallapalooza - 3:00 - 6:00 pm
November 5 - Sweet Treat - National Donut Day
November 12 - 2019 Fall Resident Satisfaction Survey Opens
November 15 - Sweet Treat - Pumpkin Spice Lattes
November 22 - Sweet Treat - Cake Pops
November 27 - Sweet Treat - Sugar Cookies
Colyer Forsyth

Historic Main Post

22900 Hitching Post Road

Fort Riley, KS 66442

785-717-2260

McClellan Place

6728 McClellan Loop

Fort Riley, KS 66442

785-717-2243

Warner Peterson

Ellis Heights

5570 AP Hill Dr

Fort Riley, KS 66442

785-717-2246